Last week Jan van Roekel and I drove up to Brussels to attend the annual Union des Grands Crus Bordeaux 2009 tasting with a line-up of 110 crus. These traveling UGC tastings are always very interesting, as you get to try the recently bottled Bordeaux vintage about 1,5 years after having tasted them at the UGC primeur tastings in Bordeaux.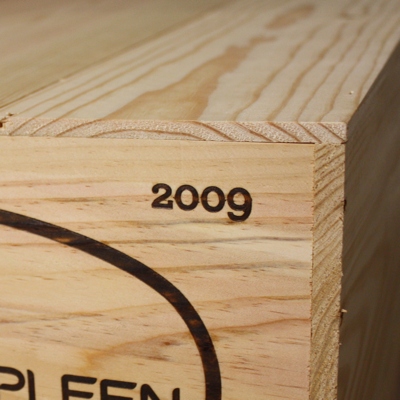 It's also an extensive tasting and you need the full opening hours if you want to taste most of the wines. To try them all is nearly impossible, unless you are a red-toothed speed freak who doesn't care what people around you will think.

There's no doubt that you're attending a tasting of the Union des Grands Crus Bordeaux: there are many people in suits. Mostly dark suits. And some fancy suits but that usually doesn't make things better. Well let's not get into that.

The best thing about the tasting is that you get a good impression of the vintage. It is not the place to taste all your favorites top-down. Not because you won't have the time (you could descend as far as you could), but because there are many omissions. There are no premier crus, and hardly any Super Seconds. And there are many other omissions, for example there are only 7 Pauillacs and 7 Pomerols. And just 4 Saint-Estèphes: Cos Labory, De Pez, Lafon-Rochet and Phélan-Ségur.

So what did we think about red Bordeaux 2009? One striking - but known - vintage feature is the absence of hard, astringent tannins. Good! And another good thing is that only very few wines smell of freshly cut oak, perhaps just one or two go off the rails here.

The vast majority of the wines displays generous, ripe and fleshy fruit. Wines range from juicy to powerful-and-structured, depending also on the style. Acidity generally is good but not predominant, and that makes the wines all the more accessible.

Red Bordeaux 2009 makes a healthy, attractive impression altogether. These are wines with... a sort of natural beauty. As opposed to something that's put together by a winemaker. But this might come across a bit vague, so let's go to the whites.

White Bordeaux 2009. We have tasted some very beautiful, elegant examples, but also some fatter exponents that are sometimes a bit rustic, and sometimes worse than that. More than once the Riedel tasting glass vapored armpit sweat. Hurray Sauvignon! Sometimes I also missed acidity and - thus - freshness.

But I do not want to jump to final conclusions about these animal whites. These in-your-face features are possibly just an age-thing. Many 2009 whites might be true adolescents now, pimpled and blushing, and I'm keen to taste these 'extravagant' whites again!

There were only a handful of 2009 Sauternes to taste, and from these I thought the Guiraud (8++) was the most attractive, with its lovely freshness and purity. I also liked De Fargues (8+), Rayne-Vigneau (8) and Lafaurie-Peyraguey (8-).

I give a Dutch rating, up to a 10 for the best posible. Everything ranging from 8 and up is good to very good, and everything below 7 is not good. In between I shrug and walk on.

PESSAC-LÉOGNAN ROUGE
- Domaine de Chevalier 2009 (8,5+) mineral and juicy, pure and fresh, quite broad base, lovely ripe fruit
- Haut-Bailly 2009 (8,5) bit closed now, but after some time in the glas the wine starts to fan out from an intense and powerful core
- Smith-Haut-Lafitte 2009 (8+) very round, seducing, modern and warm, broad; if this is your style, this is an interesting wine
- De Fieuzal 2009 (8) lovely pure wine, dark depth combined with freshness
- Malartic-Lagravière 2009 (8-) a bit sweet with a medicinal touch, yet a pleasant wine

The rest: Larrivet Haut-Brion 2009 (7,5), Latour-Martillac 2009 (7), Carmes Haut-Brion 2009 (7-), La Louvière 2009 (7-), Pape Clément 2009 (7-), Picque-Caillou 2009 (6,5), Haut-Bergey 2009 (6,5), Olivier 2009 (6,5)

PESSAC-LÉOGNAN BLANC
- Domaine de Chevalier 2009 (8,5) modest breeze of butterscotch and delicate acidity, then concentration, quite tight also, a shapely & elegant wine
- Carbonnieux 2009 (8+) more pointed, fresh, citric, and gentle in the mouth; good concentration
- De Fieuzal 2009 (8) more straightforward, quite tight, hint of oak, but simply good
- Haut-Bergey 2009 (8-) bit sweaty (at this age) but nice round total with also a good acidity

The rest from what I tasted: Smith-Haut-Lafitte 2009 (7,5), La Louvière 2009 (7,5), Pape Clément 2009 (7+), Malartic-Lagravière 2009 (7+), Larrivet Haut-Brion 2009 (7+), Latour-Martillac 2009 (7), Bouscout 2009 (7), De France 2009 (7), Picque-Caillou 2009 (7-), Olivier 2009 (6,5)

SAINT-EMILION & POMEROL
- La Conseillante 2009 (8,5-9) striking minerality, exciting wine, and lovely, intense juice, great!
- Figeac 2009 (8,5-9) very special, quite lean (not an insult), refined and elegant, super!
- Larcis Ducasse 2009 (8,5+) strikingly fresh fruit, slender, subtile, juicy and intense
- Pavie Macquin 2009 (8,5) close to the Larcis but a bit more ripeness, a bit sweeter
- Canon 2009 (8,5) quite light, purple sweetness and attraction, fine texture, ripe tannins
- La Tour Figeac 2009 (8,5) slender, juicy and pure, very nice wine, refined
- Canon-la-Gaffelière 2009 (8++) distinct style, also rather slender, special, animal features
- Clos Fourtet 2009 (8+) sweet and modern yet elegant
- Clinet 2009 (8) more 'rough', full and powerful, ripe, dark

The rest from what I tasted: Beauregard (7+), Franc-Mayne 2009 (6), La Dominique (6,5)

MÉDOC, HAUT-MÉDOC & MOULIS
- Poujeaux 2009 (8+) quite impressive, round & seductive, rather powerful, slightly tannic, hearty fat juice, broad and good
- Chasse-Spleen 2009 (8) a bit leaner, open, seducing as well but in a different manner; character, some medicinal touch that is either slightly awkward, or exciting
- La Lagune 2009 (8-) dairy-freshness, attractive solid fruit, good, pure
- Cantemerle 2009 (7,5) bit closed at the start, but a good middle-of-the-road Médoc, and that's not an insult, classic and what-you-see-is-what-you-get

MARGAUX
- Rauzan-Ségla 2009 (8,5+) exuberance and ripeness, powerful yet quite smooth, attractive acidity, good all the way!
- Du Tertre 2009 (8,5) expressive and somewhat animal, in the good sense of the word, firm acidity, hearty juice, well-structured
- Giscours 2009 (8+) quite ripe, some sweetness in balance with good classic acidic backbone, complete and refined
- Brane-Cantenac 2009 (8-) very closed at this moment and hard to judge, not sure here

The rest from what I tasted: Dauzac 2009 (7,5), Monbrison 2009 (7,5), Siran 2009 (7,5), Prieuré-Lichine 2009 (7), Desmirail 2009 (7)

SAINT-JULIEN, PAUILLAC & SAINT-ESTÈPHE
- Langoa-Barton 2009 (8,5-9) electrifying wine, snappy, lively, pure and masculin
- Grand-Puy-Lacoste 2009 (8,5+) modest start, then ripeness, roundness and a touch of oak; good acidity with an attractive mineral quality, ripe tannins, well-structured, quite lovely
- Léoville-Barton 2009 (8,5) noble, powerful, bit tannic, very complete but way too young to taste
- Lafon-Rochet 2009 (8+) classic Médoc with attractive acidity and freshness; well-structured
- Phélan-Ségur 2009 (8+) fresh, powerful, spicy & peppery, hearty, good
- Pichon-Longueville Comtesse de Lalande 2009 (8+) elegance with a medicinal touch, modest and stylish, good structure and acidity; quietly developing
- Gloria 2009 (8+) expressive, whiff of oak, acidic (positive) and lively; yes I like this one!
- Talbot 2009 (8+) very complete and classic Médoc, nice and expressive, good
- Branaire-Ducru 2009 (8) expressive, sturdy, good acidity and harmony, spicy
- De Pez 2009 (8) round-full, bit oaky, bon matière, classic and complete; nice surprise!
- Lagrange 2009 (8-) elegant, classic and attractive
- Beychevelle 2009 (8-) bit sweet and seducing, juicy, also quite attractive, already
- Saint-Pierre 2009 (8-) difficult phase? not very expressive (now), bit oaky, and some sharpness; should be better than this, or will get better

The rest from what I tasted: Gruaud-Larose 2009 (7,5), Léoville-Poyferré 2009 (7+)

Again, this is definitely not a complete list, but it gives an impression of this beautiful Bordeaux vintage.