We zijn er nog. Alle profetieën ten spijt, de wereld is er nog. En zo ook de klassiek-Franse
terroirs,
ze zijn voor ons behouden gebleven. De Bourgogne ligt er nog, en de Champagne. Fijn. En toch kunnen we ons zorgen maken.
nieuw in de selectie, de uiterst zeldzame Rosé Brut Nature van Georges Laval (biologisch sinds 1971)
Want als we de bewegingen van de continenten naar de toekomst doorvertalen, dan
verdwijnt over zo'n 50 miljoen jaar de Middellandse Zee,
als Afrika de oversteek naar Europa heeft voltooid. De zee zal plaatsmaken voor een enorm gebergte dat zich zal uitstrekken van het Iberisch schiereiland helemaal tot aan het Midden Oosten.
Of de mensheid dat allemaal nog meemaakt, ik denk het niet. En of de Bourgogne er dan nog is? En de Alpen, zullen die zijn verworden tot een nieuwe Jura (en is de Jura zelf weg-geërodeerd)? En is de Bordeaux misschien wel op ijzige hoogten komen te liggen?
Enfin, zo ver is het nog niet. Wel bereiken we in 2013 een andere mijlpaal:
Bolomey Wijnimport bestaat 5 jaar.
En dat vieren we met de toevoeging van een
vijfde
gebied aan de portfolio. Dus Bordeaux, Bourgogne, Champagne en Loire wordt in het vervolg Bordeaux, Bourgogne, Champagne, Loire, en dan nog iets.
Wat dat 'nog iets' dan is, is nog even een verrassing. Het ligt in ieder geval in Frankrijk. En Jan van Roekel en ik gaan er begin januari heen, dus u hoort er vast snel over.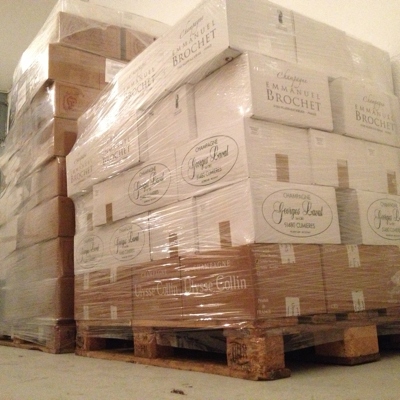 10 december 2012: aankomst van de Champagnes
Het jaar 2012 hebben wij anti-cyclisch doorgebracht, we vonden het beter om ons niet te laten afleiden door de crisis. Zo hebben we ook dit jaar weer een sloot gave Champagne aangevoerd, en zie daar: het meeste is inmiddels op.
Dank aan u allen voor uw enthousiasme in 2012! Jan - inmiddels full-time aan Bolomey Wijnimport verbonden - en ikzelf zullen in 2013 weer hard ons best doen om u het komend jaar opnieuw van puur-authentiek-verrassend Frans te voorzien.
Afrika is nog niet in zicht vanaf de Côte d'Azur, dus het kan nog.