When discussing fine Bordeaux it is common to talk about vintages. Which vintage to buy, and which one to avoid. I don't like that approach.

The difference between vintages is one of the exciting aspects of wine. Isn't the most fascinating thing about wine - as opposed to most other products - that virtually every bottle is different? If you're not into that, why bother dealing with French wines? In hot climates you may find 'great' vintages that are lined up one after another. There the sun always shines, and the irrigation drips...

Boring.

In 2010 I already wrote something about an 'off-vintage', and what to do with it. See here if you're interested: Château Giscours 2007.

Instead of just focusing on vintages I rather focus on producers, as is more common in Burgundy. When I look at the list of Bordeaux 2011 wines that I recommend, it is apparent that there is overlap with my 2010 recommendations from last year. And that's no coincidence. I clearly like the style and approach of certain producers.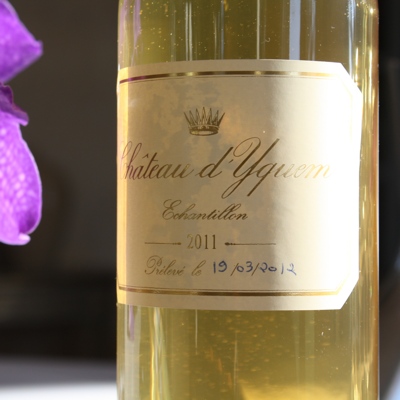 Château d'Yquem 2011 tasted at Château Cheval Blanc

For my ideas about the Bordeaux 2011 vintage in general I refer to my previous blog posting. Here I will present the wines that I recommend this year, and for list A & B I add to that the impression that I twittered directly after having tasted the wine, say straight from the heart.

List A. THE FAMOUS MONEY'S-NOT-AN-ISSUE LIST
five monumental wines, price tag neglected

1. Cheval Blanc 2011 "#bdx11 Cheval Blanc impresses: purity, minerality, balance. Same for Petit Cheval & La Tour du Pin(!), recommended! Less fwd fruit this year"
2. Pontet-Canet 2011 "#bdx11 [Vibrant vital Grand Puy Lacoste. Elegant power, precision.] But Pontet-Canet winner this morning. Has it all, seducing, pure, fresh..."
3. Vieux Château Certan 2011 "#bdx11 Vieux Ch Certan mineral, pure & juicy, as always in great shape, with high 29% Cab Franc this year + 1% "salt & pepper" Cab Sauvignon"
4. Margaux 2011 "#bdx11 Impressed by the velvet texture & delicacy of Château Margaux and Pavillon Rouge. Chalky tannins, one of the few drinkable primeurs!"
5. Pétrus 2011 "#bdx11 Pétrus tender & beautifully balanced. Same league as Margaux. Short 17 days maceration to keep out unripe tannins. Comparison: 1975"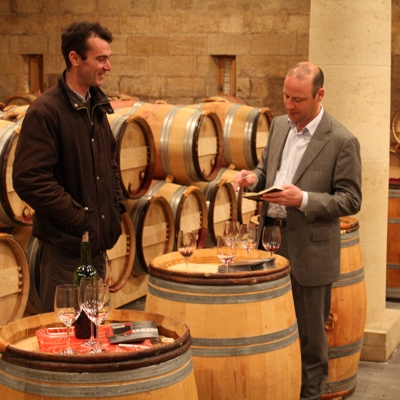 Tasting at Vieux Château Certan with Guillaume Thienpont, son of Alexandre Thienpont

List B. SOME MORE IMPRESSIVE WINES
the ones I couldn't get into the previous list

1. Providence 2011 "#bdx11 Moueix wines: Providence young untamed horse, surprising, expressive. Trotanoy stony & attractive. Good also: Certan de May & Hosanna"
2. Ducru-Beaucaillou 2011 "#bdx11 Bruno Borie calls Ducru Beaucaillou 11 Nicole Kidman (10 Charlize Theron, 09 Beyoncé) Cellaring needed for Kidman & she will age well"
3. Latour 2011 "#bdx11 Latour impresses too: elegant power, seductive fruit & ripe tannins. Forts serious wine, precise & quite dense. Not really a 2nd wine"
4. Grand-Puy-Lacoste 2011 "#bdx11 Vibrant vital Grand Puy Lacoste. Elegant power, precision. [But Pontet-Canet winner this morning. Has it all, seducing, pure, fresh...]"
5. Lafite Rothschild 2011 "#bdx11 Lafite-Rothschild beautiful, vital & harmonious, great texture, fine acidity, mineral finish. Carruades great too, tender & elegant."
6. And Sauternes 2011: d'Yquem & De Fargues.

List C. MORE RECOMMENDATIONS PER APPELLATION
not just a 3rd list, these are top-buys and some are even affordable

Margaux: d'Issan, Brane-Cantenac, Giscours, Rauzan-Ségla, Clos du Jaugueyron
Saint-Julien: Léoville-las-Cases, Clos du Marquis, Léoville-Barton, Langoa-Barton
Pauillac: Lynch Bages, Pichon Comtesse, Haut-Batailley, Duhart-Milon, Petit Mouton
Saint-Estèphe: Montrose, Calon Ségur, Lafon-Rochet
Pessac-Léognan rouge: Domaine de Chevalier, Haut-Bailly, Smith Haut Lafitte
Pessac-Léognan blanc: Domaine de Chevalier, Smith Haut Lafitte
Saint-Emilion: Tour du Pin, Larcis Ducasse, Canon, Canon-la-Gaffelière, Trottevieille, Le Carré, Beau-Séjour Bécot, Clos Fourtet, La Gaffelière
Pomerol: Nénin, Conseillante, Clinet, Hosanna, Petit Village, Beauregard
Sauternes: Rieussec, Suduiraut, Rayne-Vigneau, Tour Blanche, Doisy-Daëne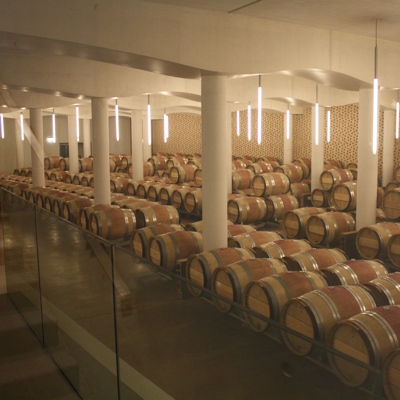 The brand new cellar of Château Cheval Blanc

List D. THE BEST VALUE WINES PER APPELLATION
great value for reasonable prices

Moulis: Poujeaux, Chasse-Spleen
Margaux: Du Tertre, Siran
Saint-Julien: Gloria, Lalande Borie, Petit Lion, Croix de Beaucaillou
Saint-Estèphe: Capbern Gasqueton, Ormes de Pez, Dame de Montrose
Pessac-Léognan rouge: Parde de Haut-Bailly, Carbonnieux, Louvière
Pessac-Léognan blanc: Carbonnieux, Couhins, Lespault-Martillac, Latour-Martillac, Olivier
Saint-Emilion: Teyssier, l'Arrosée, Fonroque, Tour Figeac, Grand Corbin-Despagne, Fleur Cardinale, Quintus, Villemaurine
Pomerol: Fugue de Nénin
Sauternes: Lafaurie-Peyraguey, d'Arche

To see what others recommend check out Bordoverview. And the Bolomey Wijnimport offers are and will be presented on the page bordeaux-2011.nl.